Regional Freight
A thriving regional economy supports the movement of both products and people. In the Northern Rivers, regional freight routes are critical to the development of new agricultural and manufacturing industries. Effective supply chains support the creation of jobs and economic growth for our region.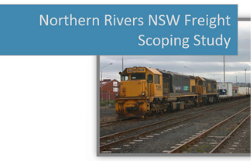 In 2016 RDA Northern Rivers commissioned Southern Cross University to undertake a scoping study of freight in our region. In January 2017 the final report Northern Rivers NSW Freight Scoping Study 2017 was released.
The report highlighted that the regional freight network is essential to our regions industries. A good, reliable supply chain is vital to both existing and developing industries, particularly agriculture and food production, which is a major industry sector in the Northern Rivers region.
The Northern Rivers is ranked as the second highest in Australia for Net Primary Productivity. Maintaining our competitive advantage is dependent upon the availability of efficient and low cost transport, and improved logistics and supply chain networks.
You can download and read the full report here.
Regional Transport
Regional transport is more than access to freight and there is a need for reliable public transport. In 2012-13 RDA Northern Rivers conducted the Sustain Northern Rivers Transport Survey 2013 in consultation with the Sustain Transport Working Group.
More than 1,000 people completed the survey, which revealed a largely car-dependent community.  A lack of information about services and gaps in availability were identified as barriers to public transport access.
Those without private transport were often unable to make trips due to a lack of suitable public transport in the region. Health appointments were identified as being missed due to lack of transport by more than 20% of respondents.
You can download the survey here.
Last Updated on