The My Future Workforce Platform (MFW) provides a career-focused approach to job seeking and recruitment. It's free for jobseekers, employers and services to use.

How does My Future Workforce work?
Jobseekers and students benefit from a personalised dashboard. Here they can add information to improve job matching and see recommended positions, courses and support. MFW enables streamlined workforce recruitment and retention for employers. Posting new jobs and work experience opportunities is quick and easy.
Outlining required skills and expertise enables employers to only receive applications from the best suited candidates, reducing the time needed to find the right person for the job. For service providers, MFW is the place to list courses, events and services for targeted promotion to employers, job seekers or both.
How is My Future Workforce different?
MFW embodies a simple registration system for all users, that is logical and easy to navigate. The platform enables instant access to the real needs of employers and jobseekers across our region and matches local people with local jobs.
With the launch of this new platform, Jobseekers, Employers and Service Providers are encouraged to sign up now and begin building a brighter outlook for our future workforce.
Data-driven eco-system
Unlike other similar systems, MFW gathers data from the entire employment eco-system thereby tackling issues such as service fatigue among employers and service gaps for jobseekers. The platform embodies a simple registration system for services, jobseekers and employers and it carries a powerful data function enabling instant access to the real needs of local labour markets.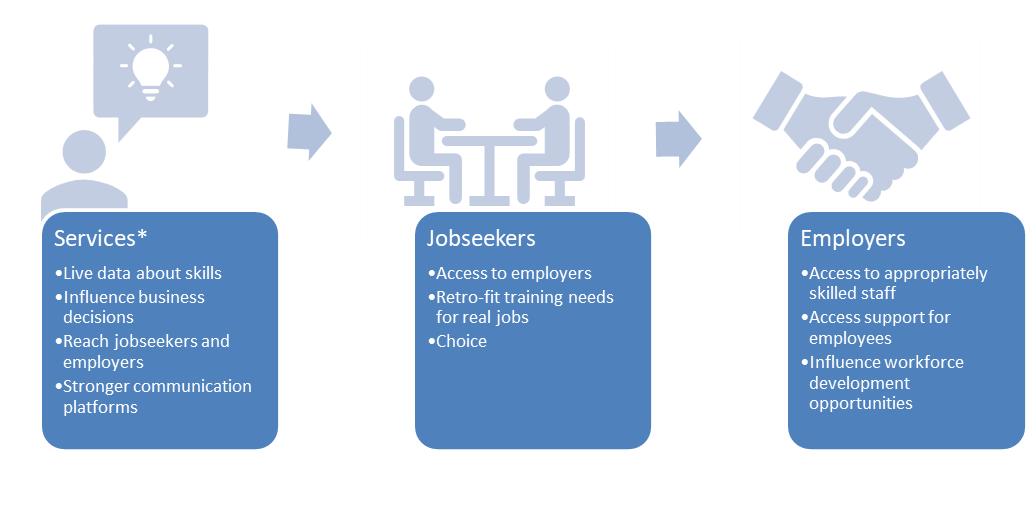 Sign up today – it's easy and free: https://northernrivers.myfutureworkforce.com.au/
Needing some guidance? Check out these how-to videos for employers https://www.rdanorthernrivers.org.au/registering-on-the-my-future-workforce-platform-for-employers/
MFW is part of the North Coast employment Strategy. The North Coast Employment Strategy is a collaboration between RDA Northern Rivers and RDA Mid North Coast. This community informed initiative is a place-based employment strategy, which focuses on challenges and opportunities that are unique to the region.
* Services have been defined as any service-related support offered to employers or jobseekers in the acquisition of a career pathway. They are defined as schools, vocational education providers, tertiary education providers, job services and community services.