"Australian values are it must be real, authentic, local, communal. That's the strongest selling point I think the Northern Rivers has into the 2020s."
Demographer Bernard Salt gave these words of advice at the Northern Star's Future Northern Rivers event held on Tuesday 11 June at Southern Cross University's Enterprise Lab. RDA Northern Rivers was a supporting partner of the event which has included a two-week campaign in the local paper.
The sold-out event included a keynote address by Mr Salt, presentations from Northern Star Editor David Kirkpatrick, SCU Vice-Chancellor Professor Adam Shoemaker and chief marketing officer Dean Gould, and Northern Rivers Joint Organisation Chair Danielle Mulholland. The presentations were followed by a lively panel discussion, responding to questions from the audience.
A key message from the event was that the Northern Rivers needed to work together as a region, rather than isolated local areas to create a brighter future. The work of RDA Northern Rivers, as a regionally focused supporter of innovation, investment and growth, will continue to foster a collaborative approach to regional solutions for our key priorities of supporting entrepreneurial innovation in agribusiness and emerging industries and promoting youth employment opportunities.
Entrepreneurs were also highlighted by Mr Salt as a key to future growth in our region. RDA Northern Rivers continues work to support entrepreneurialism and encourage investment with a focus on expanding business and investment networks, connections and innovation hubs across the region. Keeping young people in the region, our future entrepreneurs, is also crucial and our focus on youth includes working with education providers to ensure our young innovators are able to gain the skills they need without leaving the region.
RDA Northern Rivers Committee members, Dr Sue Vinnecombe, Mike Pearce and Graeme Hargreaves attended the event with our Director of Regional Development Tim Williamson. RDA Northern Rivers looks forward to continuing the partnership with other supporting partners from the event to create a brighter future for our region.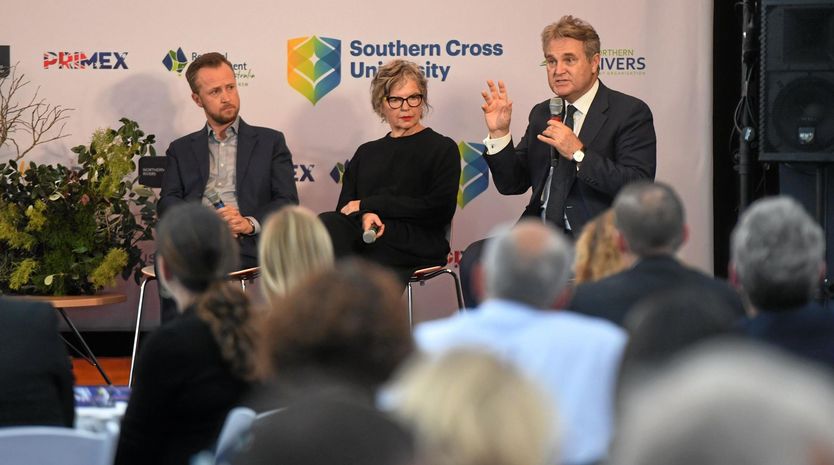 Photo: Future Northern Rivers panel members: Engagement Southern Cross University vice president Ben Roche, Brookfarm co-founder and Northern Rivers Food chair Pam Brook and Demographer Bernard Salt – courtesy Northern Star
Learn more about this event from the Northern Star and Southern Cross University