2011 Census Data

The Clarence Valley is a place of outstanding natural beauty and diversity, from lush rainforests to unspoilt beaches and fertile river plains.
The Clarence River, more than 380kms in length is the Valley's living link connecting the rural localities and rugged mountain ranges in the west to the City of Grafton, onward to the hinterland villages, historic river towns of Ulmarra and Maclean and the coastal centres of Yamba and Iluka.
Just 3 hours down the road from Brisbane, with a population of approximately 51,000 residents (and growing fast), perfect climate, and a bounty of rural, hinterland, coastal and city lifestyle and business options on offer the Clarence is fast becoming the relocation destination of choice.
Clarence Lifestyle – it really doesn't matter whether you're a surfer or a bushwalker; a gourmet or a gardener; whether you're into action and adventure or something a little more serene – the Clarence Valley has it all. Whether you choose country or coast, tranquil village or vibrant urban centre you're never far from essential services, infrastructure or community support.
Clarence Coast – beachside living at its best, the coastline of the Clarence Valley, north and south of the mighty Clarence River, has some of the most breathtakingly beautiful, unspoiled, unpopulated and unpolluted beaches in the world — 80 kilometres of them!
City living, country style – Grafton is the main service centre for the Clarence Valley. It is the commercial and professional hub of one of New South Wales' most dynamic and fastest growing regions and it is the heart of the Clarence creative community. It is also a very beautiful city.
Clarence Country – big river…big country, the Clarence hinterland is big country. The Clarence River and its tributaries – the Coldstream, Mann, Nymboida and Orara Rivers form the largest river system on the NSW North Coast, with a catchment of over 2 million hectares.
Major growth industries include tourism being driven by substantial investment, strong market awareness and improved transport links. Additionally new business development and investment is occurring around lifestyle products such as tea tree oil, regional cuisine and integrated food delivery as well as developing aquaculture and ship building industries.
Major industry sectors include commercial estuary and ocean fisheries, with significant plant and port facilities in Yamba, Maclean and Iluka. Traditional industries like beef and sugar cane production and milling remains strong. The area is experiencing significant growth in housing and commercial construction and tourism has emerged as a key industry with very significant growth occurring in Yamba name Australia's No1 town and Iluka.
Major Employersinclude the service industries, retail trade, tourism, plus property and business services, health and community services, education, agriculture, forestry and fishing. Clarence Valley has a skilled and flexible labour force. Service industries have grown to employ a significant portion of the workforce. The workforce is drawn from throughout the Clarence Valley.
Clarence Valley's population base was 50,670 at 2016 census, a 2% increase from the 2011 census.
Property – commercial property and housing information and availability is available from the local real estate agents.  Industrial lands information is available from this website and greater detail is available from the Clarence Valley Council.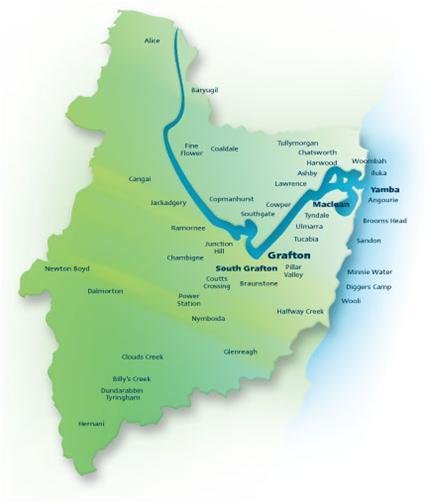 Infrastructure
Telecommunications – in the Northern Rivers, Telstra have committed approximately $29.3 million for network evolution.  When the new national Next G Network is fully deployed, Clarence Valley will have fast data and internet access, new features such as video calling, and enhanced content, wherever there is mobile coverage.
Road: Australia's premier road corridor, the Pacific Highway is the key road transport network linking the Clarence Valley north to Queensland and south to Sydney. The Summerland Way is an inland highway network that provides important north–south connectivity and is an alternative highway route between Brisbane, Casino, Grafton and Coffs Harbour. The Gwydir Highway is an east–west corridor that links the inland plains to the Clarence via the New England region.
Airport: The Grafton/Yamba Regional Airport is a code 3C facility.  The airport caters for scheduled passenger services, charter traffic and general aviation.  The airport is a security classified aerodrome under the Aviation Transport Security Act 2004.  Regional Air Express operates 34 flights per week between Grafton and Sydney.
Rail: Clarence Valley is serviced by both passenger and freight rail operations, providing access to the standard gauge rail link between Brisbane and Sydney.
Seaport – The Port of Yamba is Australia's eastern most seaport and is located in the mouth of the Clarence River.  The port has Customs and Quarantine classification and has unrestricted port of first entry for overseas imports status.
Water: Council has now completed a $180 million regional water supply strategy that secures the areas long term needs.  This has been achieved through the provision of major water supply infrastructure and a commitment to improved management of water resources. The strategy is recognised as a benchmark in the water industry and provides the Clarence Valley Council area with the reliability and security that other areas are starting to plan for.
Education: The North Coast Institute of TAFE, recognising the significance of the Clarence as a regional growth centre has recently invested $7million in new and upgraded media and trades training facilities. The Clarence has three TAFE campus located at Maclean, Grafton and Trenayr.  The Northern Rivers own University, Southern Cross is in nearby Coffs Harbour and Lismore.
Health Care: The Clarence Valley has well established health care infrastructure and a strong and efficient network of community support services. With the population growing at a sustainable rate the Clarence is well placed to deliver quality heath care and community services to its residents – both now, and into the future. Hospitals at Grafton and Maclean provide accident and emergency facilities and a range of specialist services including oncology, haematology, gynaecology and pathology.
Retirement and Aged Care and Facilities: The Clarence Valley area has a range of retirement and of aged care facilities to offer its residents that cater for the needs of an aging population, whether they require high or low care, independent living or a resort style facility.
Distances between major towns and cities
Approximate distances:
Grafton to Sydney 619km
Grafton to Brisbane 325km
Grafton to Coffs Harbour 86km
Grafton to Glen Innes 163km
Grafton to Byron Bay 170km
Grafton to Lismore 133km
Grafton to Casino 102km
Grafton to Tweed Heads 225km
Grafton to Yamba 62km
Grafton to Maclean 44km
Grafton to Ulmarra 18km
Grafton to Ballina 135km