Regional Development Australia – Northern Rivers is a leadership voice for the region.
We are not-for-profit, community-based organisation funded through the Australian Government's Regional Development Australia Initiative. We have an active role in our community with a clear focus on growing strong and confident regional economies that harness our competitive advantage, seize on economic opportunities and attract investment.
The RDA Charter
In accordance with the RDA Charter we work with all levels of government, business and community groups to support the economic growth of our region.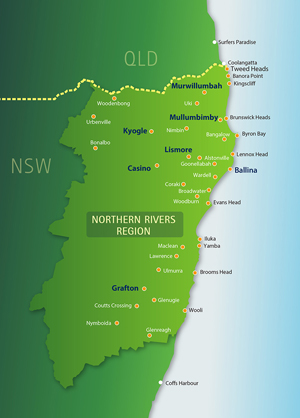 Working within the RDA Charter we aim to support the economic growth of our region through
collaboration with government, business, industry and community groups,
connecting governments and business to the world and each other to explore new opportunities,
promotion of policies and initiatives and our region's investment potential,
supporting small business to access funding and growth opportunities, and
engaging with entrepreneurs and business leaders to grow local jobs.
Our Board
Our Board— appointed by the Australian Government — is chaired by The Hon Don Page and supported by Director of Regional Development, Tim Williamson and a small team.
We cover the Tweed, Byron, Ballina, Clarence Valley, Richmond Valley, Lismore and Kyogle Council areas of northern New South Wales that are defined by the Clarence, Richmond and Tweed Rivers.
Our vision is to connect the Northern Rivers to opportunities for growth through supporting and facilitating access to investment and trade.