Food manufacturing in the Northern Rivers is a $400 million 'value add' industry with regional exports exceeding $1.1 billion. It is the only industry in the region where local expenditure exceeds regional imports.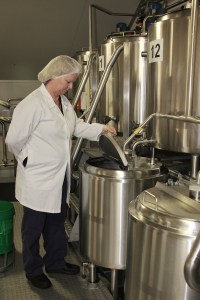 Our region continues to benefit from the rural co-operatives business structure with well established co-operative businesses NORCO and Northern Co-operative Meat Company, making significant ground in establishing trade arrangements in Asia. The success of the co-operative business model in the Northern Rivers was a key driver for the Australian Government funded pilot co-operative project, Farming Together being located in the region.
More recently, newcomers to the region have brought entrepreneurial innovation and sustainability to the local food manufacturing industry. Sustainability and community are key to our local boutique food and beverage manufacturing industry.
Case Study: Stone & Wood
Stone & Wood Brewing Company was established in 2008 in an old soft drink factory in the Byron Bay Industrial Estate. A collaboration between three friends, they set about creating 'handmade' brews from their small boutique brewery in Byron Bay. By the end of 2008 they had their first keg of beer on tap in local pubs and released their first bottled lager in 2009. The company has continued to grow with a second brewery opened in Murwillumbah in 2014. They now employ over 120 people in the Northern Rivers region.
Collaboration and networking have long been the foundation of our local food industry and this tradition continues with our newest industry players. The Northern Rivers Food network was established in 2013 through the Sustain Northern Rivers project. Sustain Northern Rivers is a collaboration of regional councils, education and health organisations, RDA Northern Rivers, NSW government agencies and other regional entities. The member based Northern Rivers Food network continue to host regular networking and business development events and maintain a web directory of member businesses.
As the local food industry grows there is an increasing need for greater investment in food processing facilities in the region. This has created an ideal investment opportunity for the development of a manufacturing hub. A number of local manufacturers are already seeking facilities to support their expansion. Investment in large scale food manufacturing would support our growing industry's need for expansion.
If you are considering investing in food manufacturing in the Northern Rivers contact RDA Northern Rivers.