Our region is strategically located with the New South Wales/Queensland border in the north, the Clarence Valley in the south and the Great Dividing Range in the west. The Northern Rivers is gifted with productive soils, excellent growing climate, beautiful beaches, educated and creative population and increasing investment into infrastructure.
When you're thinking about investment options for your business instead of asking "Why Northern Rivers?" ask "Why Not?".
Consider us here at RDA Northern Rivers as your very own Investment Concierge. When you are looking to relocate your business or reinvest in your current business contact us for more information and assistance. We will be pleased to provide a pathway for your Northern Rivers future.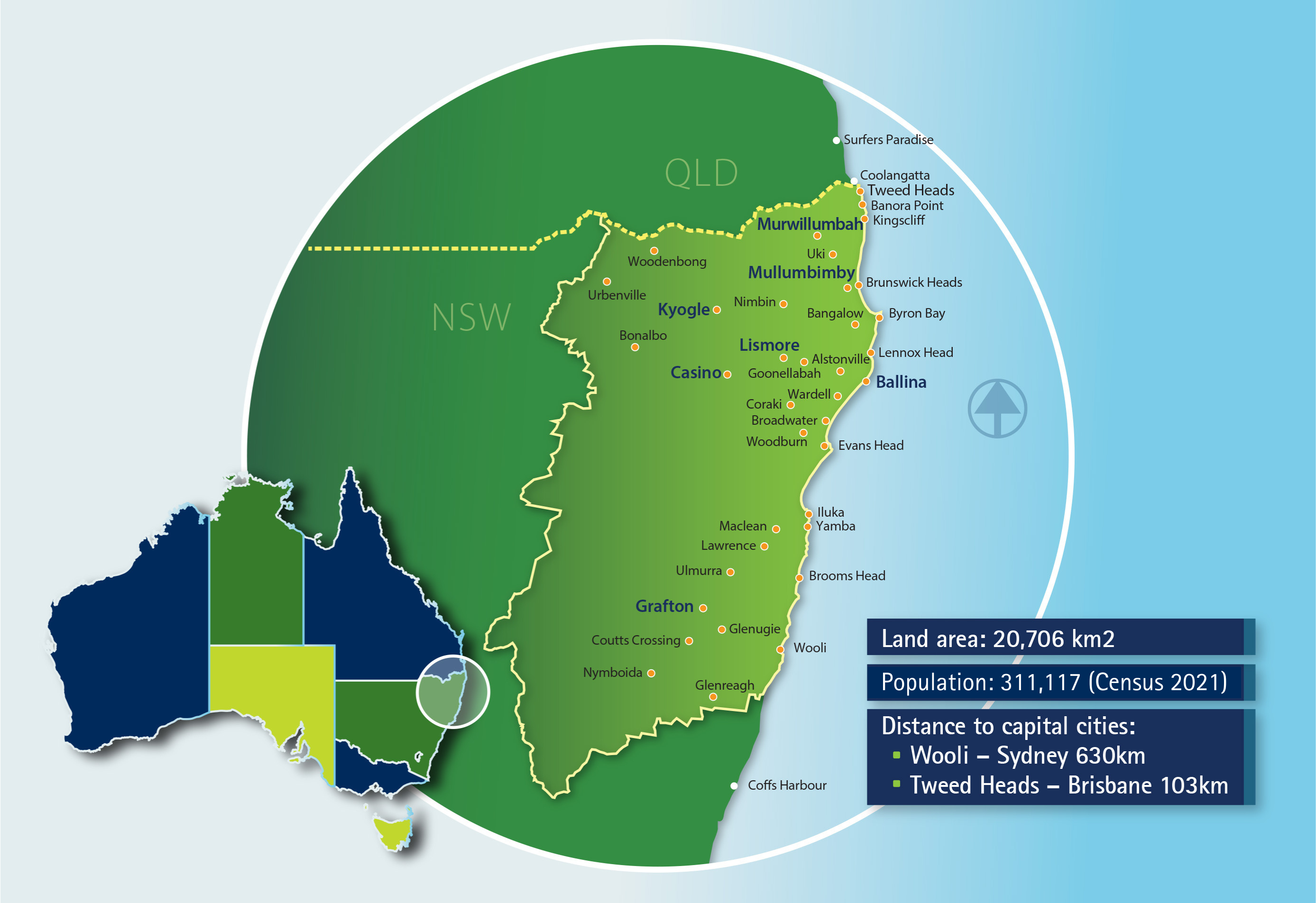 At a Glance
total area: 20,706 km2
total population (Census 2021): 311,117
fastest growing region in NSW
defined by the Tweed, Richmond and Clarence river systems
embraces National Parks, world heritage sites, pristine rainforest and a magnificent coastline
superb natural – and dynamic social – environments
popular choice for alternative lifestyles and innovative businesses opportunities
a rich indigenous cultural history dating  back at least 12,000 years
large regional centres: Tweed Heads, Lismore, Ballina and Grafton joined by major access routes
smaller 'specialist' towns include Murwillumbah (sugar) Byron Bay (tourism) and Casino (beef) and a network of vibrant coastal and hinterland villages
population diversity and vitality is a most endearing quality – villages like Nimbin are internationally renowned alternative lifestyle centres
a high proportion of innovative and creative people live here
liveability is enhanced by Southern Cross University, North Coast Institute of TAFE, and the rich, diverse, social and cultural activities and facilities
Industry and investment prospects
The capacity of regions to create jobs correlates with the competitiveness of its industrial structure. Economies of scale and the clustering of competitive and complementary companies have traditionally been drivers for employment growth.
Firms now have greater flexibility regarding location, enabling a choice to locate in the regions, rather than large metropolitan centres. Global production systems and developing links to global economic opportunities are getting stronger. The digital revolution, improvements in transport infrastructure and emerging networks of small to medium local businesses providing economies of scale, allow people to live and operate their businesses from the Northern Rivers while taking full advantage of global market opportunities.
Infrastructure
Improvements in roads, rail, airports and telecommunications networks are opening up the region to new investment opportunities.
The Pacific Highway upgrade has cut travel times to both Brisbane and Sydney. Improvements to other major road transport routes and the rail line to the north and south will cut travel times and help create a competitive option for transporting goods to markets. Airport infrastructure has been boosted by the emergence of Coolangatta International Airport. Increased traveler numbers for Ballina-Byron Gateway Airport will continue to grow with improvements to the terminal and runway.
Most of the region is now connected to the National Broadband Network (NBN) with the rollout expected to be completed in 2019. The improved connectivity will drive new investment opportunities, some yet to be imagined. 
Employment
The Northern Rivers is experiencing rapid growth in retail, building and construction, personal services and tourism and hospitality. Employment in the health, education and community services sectors is growing, including opportunities for highly-skilled professionals. New primary industry jobs are emerging, particularly in value-added horticultural products, timber processing, wood products and aquaculture.
Improved access to Brisbane and Sydney and an improving ICT infrastructure, improve prospects for home-based businesses including multimedia and the cultural industries, including for those who tele-commuted to the Northern Rivers during the past two decades.
Investment opportunities are driven by population growth, natural resource endowments, infrastructure, industry and investment prospects, lifestyle opportunities, knowledge and skills.
Population
Population growth is driving high investment and employment growth, bringing demand for infrastructure e.g. houses, roads, schools, hospitals and shopping centres; and demand for retail and financial products, health and education services, libraries and other community services. The Northern Rivers is forecast to be the fastest growing region in NSW during the next twenty years, with population forecast to grow at 1.2% per annum (0.4% above the state average). According to the Australian government Department of Health and Aging, the northern Rivers region is projected to grow from 283,615 in 2007 to 359,720 in 2027.
At June 2008 around 20% of the NSW population (1.38 million people) lived in coastal local government areas (LGAs) outside the Sydney statistical division. The largest and fastest population increase was in Tweed – on the far north coast – with an increase of 2,200 people (2.6%). Other coastal LGAs experiencing fast population growth included Byron Bay (1.6%) and Ballina (1.5%).
Natural Resources
Since white settlement, the natural, agricultural and timber resources of the region drove migration and employment growth. Industries such as timber and wood products, sugar, horticulture and cattle, remain internationally competitive and important sources of wealth for the region. They will continue to be important sources for investment and jobs. The two major manufacturing industries are wood products and processed foods, which have developed around the region's natural resource base. On the other hand, new opportunities are emerging in niche products – herbs and natural medicines, horticulture, aquaculture and high value-added timber products.
The region's magnificent natural attributes of National Parks, world heritage areas, rainforests and popular coastline are a driving factor in the growth of the tourism industry.
Lifestyle Opportunities
The unique lifestyle attributes of the Northern Rivers is a key driver for growth. Retirees are attracted by the climate. Younger people seeking alternative lifestyles are attracted to 'tree change' and 'sea change' opportunities provided by affordable housing, beaches and waterways and a creative social environment.
The diversity of cultural and social opportunities (e.g. music, festivals, markets, arts) attracts creative people from all walks of life who bring new skills to the region. Improvements in ICT infrastructure encourage professionals to establish and operate home-based businesses here to maximise life/work balance.
Click HERE for information about investing in regional NSW from the NSW Department of Planning, Industry and Environment