Tourism is a major industry in the Northern Rivers.
The region boasts some of the best beaches, spectacular walking tracks, top whale watching, snorkeling and fishing, and world heritage Gondwana rain forests. The diversity of our natural environment continues to attract a broad spectrum of tourist.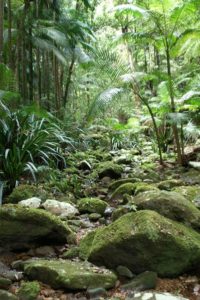 Located south of the Queensland border, the region has long been a popular destination for South East Queensland day trippers. Sydney is also around an hour by air, attracting both domestic and international overnight visitors.
The visitor economy in the Northern Rivers value adds over $800 million annually to our region.
In 2016 the region received over 2.4 million domestic and 233,000 international overnight visitors. In addition to this 3.7 million domestic daytrip visitors came to the region. The average stay for domestic overnight visitors is 4 nights, with international visitors staying an average of 11 nights. The tourism spend from international overnight visitors in 2016 was $119 million, while domestic daytrip visitors spent $411 million in the region.
The tourism industry supports over nine thousand jobs in the Northern Rivers across a range of sectors. Almost two thirds of accommodation and food industry employment is in tourism. The industry also creates employment and revenue in retail and education.
The Northern Rivers, when included with the NSW Mid North Coast is Australia's third largest tourism region based on domestic overnight stays.
Support for the local industry is available through the NSW Government's Destination NSW Network. Destination North Coast NSW supports regional tourism through research, marketing and business development opportunities. Further information on tourism investment opportunities in the Northern Rivers region is available from the Destination North Coast NSW website.