In 2019 RDA Northern Rivers and RDA Mid North Coast collaborated to gather information from North Coast businesses to better understand skills shortages in the North Coast region and develop policies and programs to address them.
The data collected through this project is now available in the North Coast Skills Snapshot 2019.
The information was collected through an online survey, which had 180 responses from a diverse range of North Coast businesses.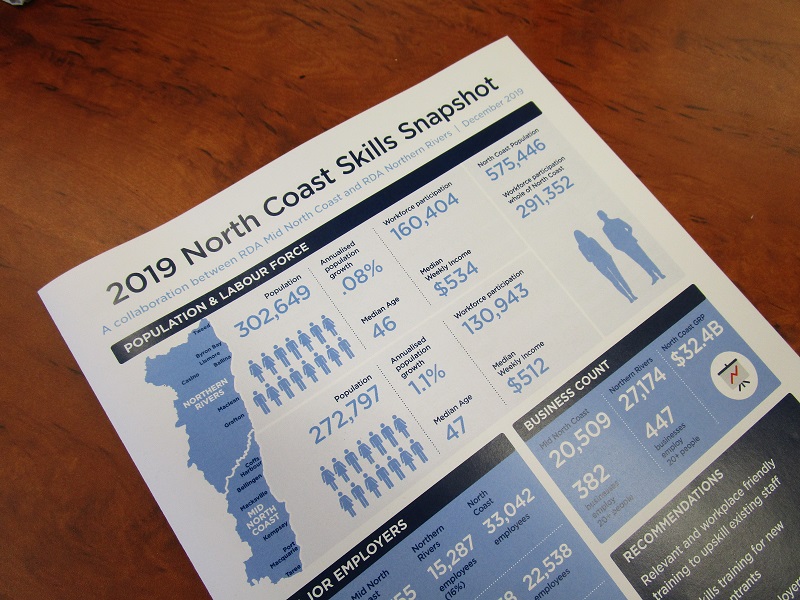 Key outcomes include 61% of business owners felt very likely to introduce new improved methods and processes, 58% of businesses in the region employ 1-10 people and 45% of respondents have a highly casualised workforce with over 50% working casually or part-time. 60% of respondents indicated they do not have a workforce development plan, yet 57% indicated skill gaps within their organisations.
RDA Northern Rivers and RDA Mid North Coast are continuing their partnership and are currently working on developing a North Coast Employment Plan. The North Coast Employment Plan will identify opportunities to improve skills and address issues in the region. A series of workshops will be held in April and May to provide opportunities for stakeholders to contribute to the Plan.
The North Coast Skills Snapshot 2019 can be downloaded here