Download the Survey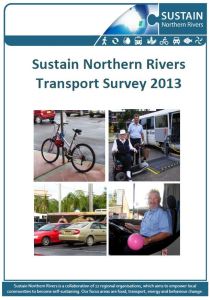 The Sustain Northern Rivers Transport Survey was conducted by RDA – Northern Rivers in consultation with the Sustain Transport Working Group, to find out more about unmet transport needs in the region. More than 1,000 people completed the survey, which was available online and in paper form from 63 outlets including MPs offices and community centres, from December 2012 – April 2013.
Key findings:
We are highly car-dependent — almost 70% of respondents to the survey reported they made their most frequent non-work-related trip as the driver of a private car
More than half the respondents reported they were unable to make trips due to lack of transport
Health appointments are the most frequently 'missed trip' by more than 20% of respondents. In the case of Indigenous respondents, this figure was almost a third
The survey yielded a number of comments about a lack of specific public transport services that are known to exist, suggesting that lack of information, not just services, may be a major barrier to using public transport. This hails an opportunity for private sector providers and the public sector to be more proactive in promoting the services and timetables.
In terms of sustainability and health, the survey also revealed demographic differences between people using 'active transport'. Young people on low incomes are more likely to walk, whereas cyclists tend to be 45-54 years of age and in higher income brackets.
The survey highlights major centres and routes within the region that should be the focus of future service planning. These are shown in the report's Appendices as the Transport Network Analysis and include travel to:
Lismore from surrounding areas in all directions;
Ballina from Lismore, Lennox Head and the Richmond Valley Coast;
Tweed Heads from the coast and Murwillumbah; and
Grafton from surrounding areas including Maclean and Yamba.
The findings will assist Sustain Transport and other stakeholders develop innovative and effective transport solutions for the region, and support the actions identified in the NSW Government's Northern Rivers Regional Transport Plan and the RDA-NR and NRSDC's Northern Rivers Regional Social Plan.